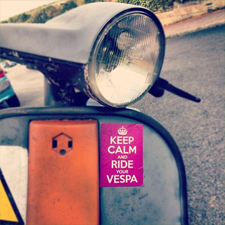 Why Join?
Exchange ideas, attend rallies, share opinions on various Vespa models, their parts, accessories and join a community of like minded Vespa riders.
The Vespa Club of Canada is a non-profit club and proud to be a member in good standing with Vespa World Club (previously known as the Federation International des Vespa Clubs or F.I.V.).
What is included?
You will receive a membership card, club decal and discounts to Vespa-friendly shops and parts suppliers across Canada.
As a member you can attend the Vespa World Club's annual event Vespa World Days under the Vespa Club of Canada banner*. Various cities host this event around the world. It will be our turn to host the world in 2024.
How to join?
Visit our Shop to pay your fees and join the club. 
* Event registration is payable by the member but the VCoC does the registration.
Subtitle
Be part of Canada's national club that's been in existence for over 20 years dedicated to the preservation of the Vespa scooter.